Latest Update


Update: March 3, 2022
As you probably now know, Santa Clara County has recently updated their guidelines regarding the wearing of masks indoors. Here is a quote from their latest update:

"Effective March 1, 2022, the requirement that unvaccinated individuals mask in indoor public settings will move to a strong recommendation that all persons, regardless of vaccine status, continue indoor masking."

As a church we will follow this new guideline. That means that, beginning this Sunday, we are not requiring that you wear a mask in our services, but you are certainly still free to do so.

At this point in time, we ask that children participating in our kids classes DO wear a mask while indoors, though, as the weather warms up, we plan to provide more and more unmasked time for them outside.

Thank you for understanding and supporting one another in all of this. Let's commit to stay united around the cross together, masks up or masks down!
---
Archived Updates


Update: October 2, 2021
As we are now looking to meet inside, we will need to begin following the county's order with regard to wearing masks inside regardless of vaccination status (find the order here). Our policy has always been to follow the federal, state, and county guidelines as best as we can and that is what we will continue to do.
As always, our first priority is to maintain charity in Christ towards each other whatever our opinions on the matter may be. Please don't let the body of Christ be divided over this, but instead sacrifice yourself in love for one another as he has himself for you!
Update: June 17, 2021
As the state of California reopened further on June 15th, we are now relaxing our policies concerning COVID-19 to better align with these new guidelines. You can find the new order we will be complying with here. The following are important adjustments to make note of:
You no longer need to register for a Sunday Service (though we will still have to report positive COVID-19 infections to the county for tracking).
Social distancing no longer needs to be observed (you are obviously free to continue social distancing if you so desire).
We have relaxed our mask requirements. We now ask you to join us in honoring these guidelines (you are obviously free to continue wearing a mask if you so desire).
As our kids ministry slowly kicks back into gear, we will likely be aligning our policies with the current recommendations for schools (which you can find here).
DOCUMENT LAST UPDATED: April 1, 2021
As restrictions begin to ease up (Lord willing!), we have begun formulating our plan for slowly reopening as a church. We have created the following document to provide a few guidelines and updates. It will be housed here and updated as things develop. Please familiarize yourself with this as it involves both what you can expect from us and what we will be expecting from you. Thanks!
For the latest, click on the image below . . .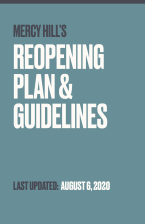 UPDATE: June 4, 2020
We're sure many of you by now have seen the recent updates from the county regarding the shelter-in-place order and the slow reopening of things. Praise God! The new order goes into effect on 12:01am on Friday, June 5th. Pertinent to us in particular is their permission of the following:
Outdoor small ceremonies and religious services, in groups no larger than 25
In days to come we will keep you informed of any Mercy Hill events/ministries that will be adjusted in light of this. For at least the next week or so, our official approach to things will not change. With all the protesting and interpersonal exposure that's occurred this past week, we feel it best to hold off a bit to see how the number of cases in our county may be affected. If things continue to progress favorably (as we hope and anticipate), we will then formally review our current strategy and make any appropriate changes. At that point, we will look to incorporate more in-person gatherings for you to join in on if you feel comfortable doing so.

Thank you so much for your patience and prayers!
UPDATE: April 1, 2020
With the shelter-in-place order now extending thru May 3rd, the earliest we will be able to return to gathering on Sundays would be May 10th. Obviously, much can (and probably will!) change between now and then, but this is the most we can say at this point. We will continue to pray for God to flatten the curve in our city and around the world and that He might use this crisis as an open door for the gospel and a move of His Spirit.
While this April 1 update fills out the details a bit more, everything else from our March 19 update below remains relevant. Please read it if you haven't already.
UPDATE: March 19, 2020
The Coronavirus was officially declared by the WHO as a "pandemic." As things have escalated, much has had to shift and change. It is now required that we move our Sunday Service into a strictly online format for the foreseeable future.
Answering Your Questions
Here are some questions we're sure many of you are asking:
What Exactly Does This Mean?
This means that we will not be gathering as a body in person on Sunday mornings as we usually do. Instead, we will pre-record a sermon that will then be uploaded to our website by 10:00am Sunday morning in video format. We will be providing a Worship Guide on our church blog to help you follow along at home. Depending on current limitations and recommendations, feel free to engage in this with family, friends, or other Mercy Hill members insofar as you feel it is safe and wise for you to do so (see the note on small groups below). There will be punctuated times throughout the video where we will encourage discussion, prayer, etc.
What about My Kids?
While difficult, this pandemic does create a wonderful chance for parents to step towards their God-given call as chief disciplers of their kids. We know this may feel overwhelming and that is why we want to help! Parents of Mercy Hill children should have already received an email from the Director of Mercy Hill Kids, Christina Lugo, regarding ways you can utilize the Gospel Project curriculum at home. This information has also been included on our blog here. Beyond this, each Sunday, we are also looking to host an online worship gathering for our kids. You can check here for more details. We'd love to have you join us!
If you have any questions or need help in any way, don't hesitate to reach out to Christina at
How Long Will This Go On?
Honestly, we can't say for sure. We will continue to stay up with the latest stats and recommendations from the government and adjust accordingly. You can expect that we will be "meeting" this way at least through the first Sunday of April. Our hope and prayer has been that we'd be able to gather back together again by no later than Easter Sunday, but recent recommendations from the CDC make this seem unlikely. The recommendation is that any gatherings of 50 or more people be postponed or cancelled for 8 weeks (which would mean we might not meet again as a large gathering until somewhere around May 10th or even later!).
Once the the shelter-in-place order has been lifted, we will then assess whether we can at least begin to meet again in small groups on Sundays to engage the online material together. Remember, you can always check back on our website for the latest information regarding our Services.
What about Small Groups and Other Ministry Events?
Due to the shelter-in-place order (which is currently set to extend at least to April 7th), we are not even able to meet in small groups at this time. We are, however putting other rhythms in place to bring some order to the chaos for you. In addition to the new Sunday Service format, here are a couple other things we'll be doing beginning 3/23:
Our Home Groups will be moving to an online format (via Zoom or other video conferencing platform).
We have created an online "Prayer Room" (via Zoom) that will open up for people to enter and engage on Mondays, Wednesdays, and Fridays from 12:00-12:45pm.
You can read more about these new rhythms here.
How Can We Help?!
Hopefully, we've answered your questions. Now will you please answer ours? Here it is: HOW CAN WE HELP?!
We know that this is a frightening and unnerving time for a lot of us. We also know that some of you and some of those you know are significantly at risk. As a church we want to be that city on a hill, salt and light, agents of peace in a world of unrest.
Would you do us a favor? If you or anyone you know (family member, neighbor, friend, coworker, etc.) needs prayer or help during this time, would you let us know? We want to make ourselves available to serve and care for the vulnerable and hurting in our city. This might mean requesting that a Mercy Hill Leader call to talk or pray. It might mean informing us of folks we can run to get groceries for (no promises on toilet paper ; ) You get the idea. We'd love to hear from you and we'll do all we can to help.
For more tangible ways you can take part in reaching out to your neighbors see this.
Additional Resources
If you're interested in checking out some more helpful resources on the Coronavirus and the church, here are a few we recommend: