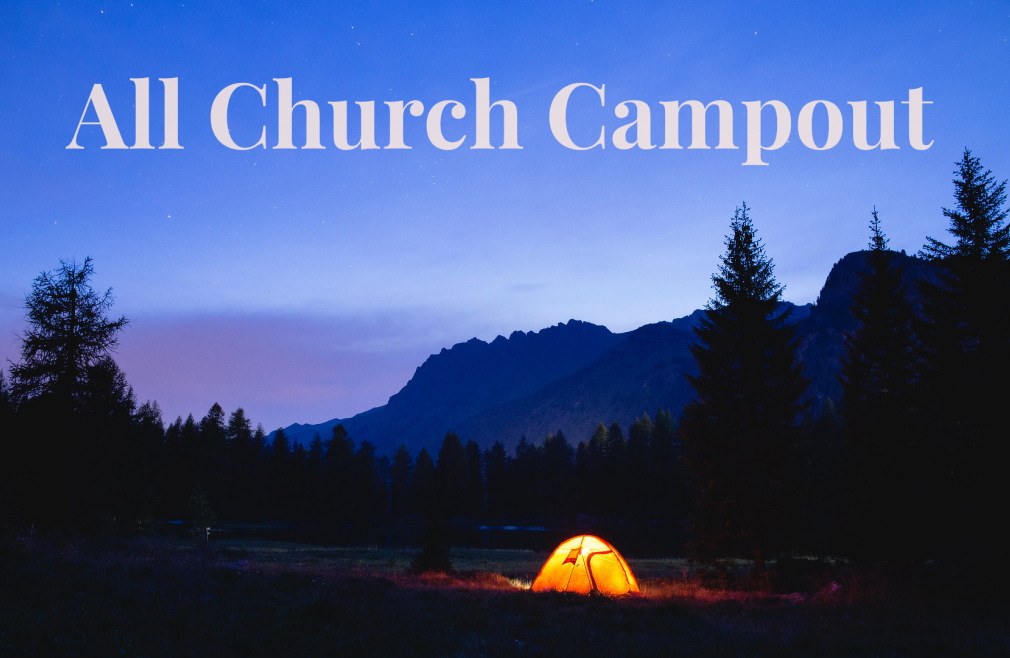 Saturday, June 24, 2023 - Sunday, June 25, 2023

GET AWAY WITH US!
We are excited to announce that we'll be hosting an All Church Campout at Mount Madonna County Park over the weekend of June 23rd-25th! We have a huge group campsite all to ourselves and lots of options in the park for having fun together. Whether you love to camp or you'd rather still sleep in your own bed, we have something for everyone here . . . so please read on!
ACTIVITIES
Mount Madonna County Park is stunningly beautiful. As its website states: "This 4,605 acre park is dominated by the redwood forest so characteristic of the Santa Cruz Mountain range. To the east, the park overlooks the Santa Clara Valley, to the west, Monterey Bay." (Read more about the park here).

And there's lots to do! Here's a sampling of the sorts of things we might engage in as a church over the weekend:
Soaking in the sun
Relaxing in the shade
Playing games, sports, etc.
Hiking
Strolling
Horseback riding
Checking out the white fallow deer pen
Barbecuing
Bonfires
S'more-roasting
Stargazing
Singing worship
Sharing testimonies
Morning devotionals
Sunday Service
Praying
Laughing a lot
Sleeping (a little ; )
OPTIONS FOR INVOLVEMENT
Because the park is only a 45 minute drive from south San Jose, people can feel free to come and go as it works with their schedule and preference.

Option #1: Day-Use

For those not wanting to camp but still wanting to participate, the Day-Use option is best. You can come in for the day, enjoy activities, meals, etc., and then head home to your warm bed while the rest of us "rough" it : ) Take a look at the proposed schedule below to determine which days you might want to come.

Option #2: Camp

This option is for those who want the full camping experience. We have the site for Friday and Saturday nights. You can choose to camp for one or both of these depending upon your availability and desire.
DAILY SCHEDULE
Here's the schedule for the weekend:

Friday, June 23rd
3:00-9:00pm - Arrive anytime after 3:00pm, setup camp, BYO dinner, small fire, s'mores, social time.
Note: This is going to be a more low-key evening. Those that want to camp a couple nights can come in for Friday. You'll need to bring your own dinner (maybe get takeout on your way in after work).
Saturday, June 24th
8:00-9:00am - Breakfast (provided)
9:00am-12:00pm - Intermediate hike (optional activity); free time for others
12:00-1:30pm - Lunch (provided)
4:00-5:30pm - Stroller-friendly overlook walk (optional activity); free time for others
6:00-7:30pm - BBQ dinner (provided)
7:30-9:00pm - Bonfire, s'mores, testimonies, sharing, etc.
9:00pm - Winding down, quiet time, stargazing (potentially w/ telescopes!)
Note: All activities are optional and we anticipate many people just lingering in and around the campsite all day. There is plenty of fun to be had just hanging out. Bring books, games, hammocks, etc. If you're a camper or day-user coming in on this day, you can feel free to come anytime!
Sunday, June 25th
8:00-9:00am - Breakfast (provided)
10:00-11:30am - Sunday Service!
12:00-1:30pm - BBQ lunch (provided)
2:00-3:30pm - Horseback riding w/

Mount Madonna Stables

- one group (max 10 people), one hour on trail (optional activity); everyone else can feel free to hang out, tear down, etc.
5:00pm - Vacate site
Note: We actually did reserve the site for Sunday night as well so that we could have a relaxing afternoon following the service in the morning. If you're really die hard, you can stay Sunday night also. We're not going to stop you! Just be aware that we won't be providing any food, etc. for this. You're on your own!
COST

Day-Use Saturday
The cost for day-users on Saturday is $10/adult (12+ years old) and kids (0-11 years old) are free (meals and snacks are included). You will also need to buy the $6 car pass at the entry kiosk.
Day-Use Sunday
There is NO COST for those joining us for the service and barbecue on Sunday (neither for adult nor for child)! We just want you to come! Of course, you will still need to buy the $6 car pass at the entry kiosk.

Even though there is no cost for this day, we still ask that you please register so we know how many to expect for the barbecue lunch!

Camp

The cost for campers is $30/adult (12+ years old) and kids (0-11 years old) are free. This is the cost whether you are planning to stay for one or two (or three!) nights.

Note: Do not let the cost keep you from coming. If you want to camp but are unable to pay, sponsorships are available. Email us at and we'll be happy to help!
FAQ

What about the Sunday Service?

You may have noticed, but we will actually be holding our Sunday Service at the Huckleberry Group Campsite! The service will be at the same time (Sunday at 10:00am) and will involve the same basic elements (singing, preaching, praying, communion, etc.).

People not camping over the weekend are especially encouraged to join us as a day-user on Sunday for the service and after-service BBQ.

There is limited seating at the campsite, but it would be very helpful if you could bring along your own camp chairs. Thanks!

What if I (or others in my family) have food allergies or special dietary needs?

Unfortunately, we are not able to accommodate this as it would make meal preparation too complex. We will be providing the menu to all registrants at a time closer to the event, but it will likely be pretty standard BBQ options. If the meals don't work for you or your family, we would ask that you please bring what you need. You are free to use the barbecue or whatever other cooking resources we have.

What if I stink and want a shower?

It's camping, you're allowed to stink. But if things get too foul, we're right across the way from nice personal-use showers! Bring some soap and shampoo.

What if I need electricity?

Some people need electricity for medical reasons. Others just want to be able to blow up their air mattresses. While the campsite itself doesn't have power, remember, you can get power inverters that will turn your car's cigarette lighter into a 3-prong outlet. We will have a few inverters onsite for you to make temporary use of if need be.

What about poison oak? I'm deathly afraid (and allergic) to poison oak!

Not to worry! While there are little patches here or there, the campground and surrounding forest are largely clear of poison oak. You can let your kids roam freely with little concern for this. Did I hear someone say "Hallelujah"?!

What if I have little kids that turn into monsters when they don't get naps?

Well, we're not going to lie, giving your kids naps while camping is certainly harder, but it can be done . . . especially at the campsite we have! For one thing, there is plenty of space. You can set up your camp further away from others and minimize the noise. For another thing, there is actually quite a bit of shade. The redwood trees are huge and our camp is in the middle of them. You can find a quiet, shaded spot and give your kids the best chance at resting.

What if I've never been camping and don't know where to start?

We got you! Lynn Kuehn our "Camp Host" is well-versed in the ways of all things camping and is happy to help. We will be shooting out a sample packing list and other details to those who register at a time closer to the event. You can also ask Lynn a question anytime at

What if I'm scared of the dark?

Jesus is the light.

What if I'm still debating whether or not I should come?

Do the right thing. Come!